« Back
Monument Antwerp Initiative Turns Trash to Steam and Reduces Emissions
February 19th, 2019
---
Monument employees are always up for exploring innovative possibilities – whether they are for increasing capacity, adding capabilities, improving efficiency, or making operations more environmentally-friendly.
An exciting two-year project led by the Antwerp team in Belgium promises positive results in each of these critical areas.
The site will soon be powered in part by high-temperature steam generated by the burning of household trash at a nearby incinerator. The process will reduce the site's consumption of natural gas and has the potential to increase the site's power-generating capabilities. It will also reduce CO2 emissions by approximately 40%.
The initiative uses steam from the neighboring incinerator to regenerate the site's steam, which means the site can switch off many of its natural-gas burners.
"The new process will initially generate up to 28 megawatts of power," said Gunther Switsers, Process Engineer. "We only need about half of that today, so we now have 50% spare capacity – allowing us to grow as the business grows. And the amount we can generate in the future may go even higher."
The project was sparked by a government initiative that encourages industry to operate more efficiently. Five other nearby companies are participating in this initiative as well, and the total reduction of carbon emissions is expected to be around 100,000 metric tons per year!

Testing of the new steam-generation process began this month after about two years of work, which included building the reboilers required by the system. To maximize results, the Monument team worked closely with a Netherlands-based contractor that was supporting all of the participating companies, and they very much benefited from their specific expertise in this area.
"We learned a lot about operating steam systems over the course of this project," said Matteo Losapio, Electrical & Instrumentation (E&I) Engineer. "For example, we use mostly small lines to carry steam here, but now we know a lot about working with big lines, which will be very useful."
Matteo is also quick to point out that working on this project gave him an immediate flavor for Monument's innovative culture.
"I joined the company two years ago, and this was my first project," said Matteo. "Being a part of this initiative allowed me to quickly witness just how committed Monument is to making the most of possibilities. And I know we will continue to do that! Through this project, we've expanded our capabilities related generating power with steam, and we're excited about the potential this success has for leading to other ways of working more energy efficiently, while also increasing our capacity. In the meantime, we look forward to seeing the tangible results of our team efforts in the coming months."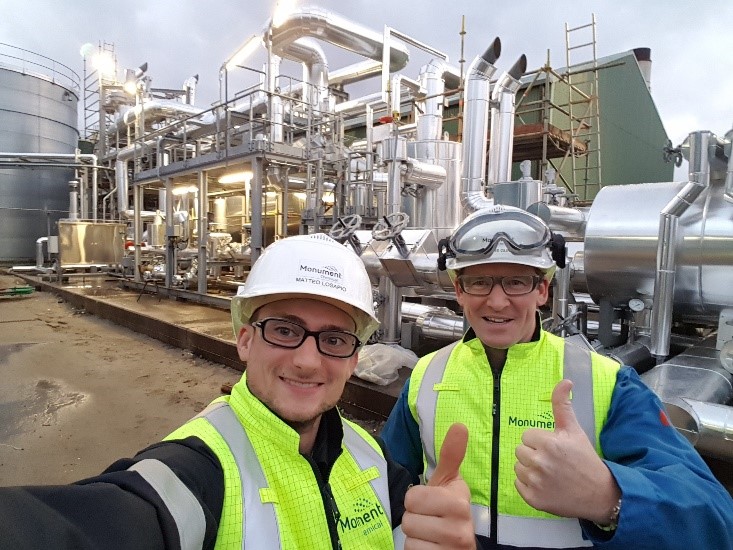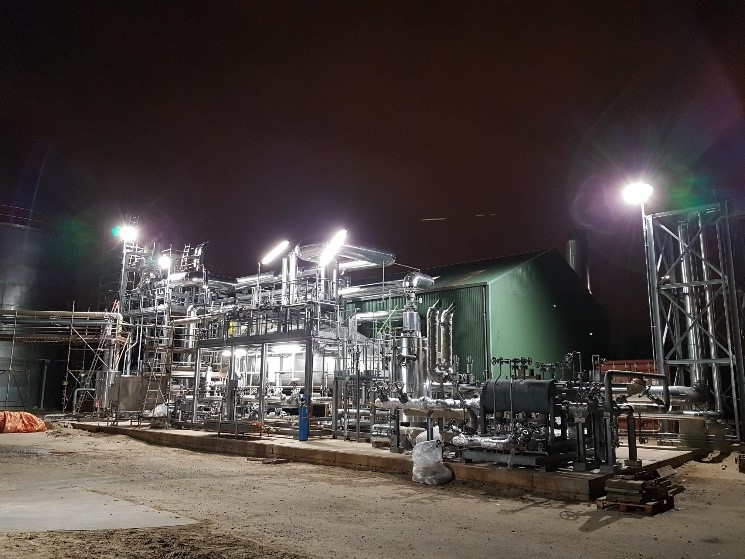 PICTURES: Matteo Losapio (left) and Gunther Switsers (right) share their excitement over the pending launch; a night-time view of the new Monument steam facility