« Back
New Monument Annual Grant Supports the Building of a Riverfront Amphitheater in Brandenburg, KY
January 25th, 2019
---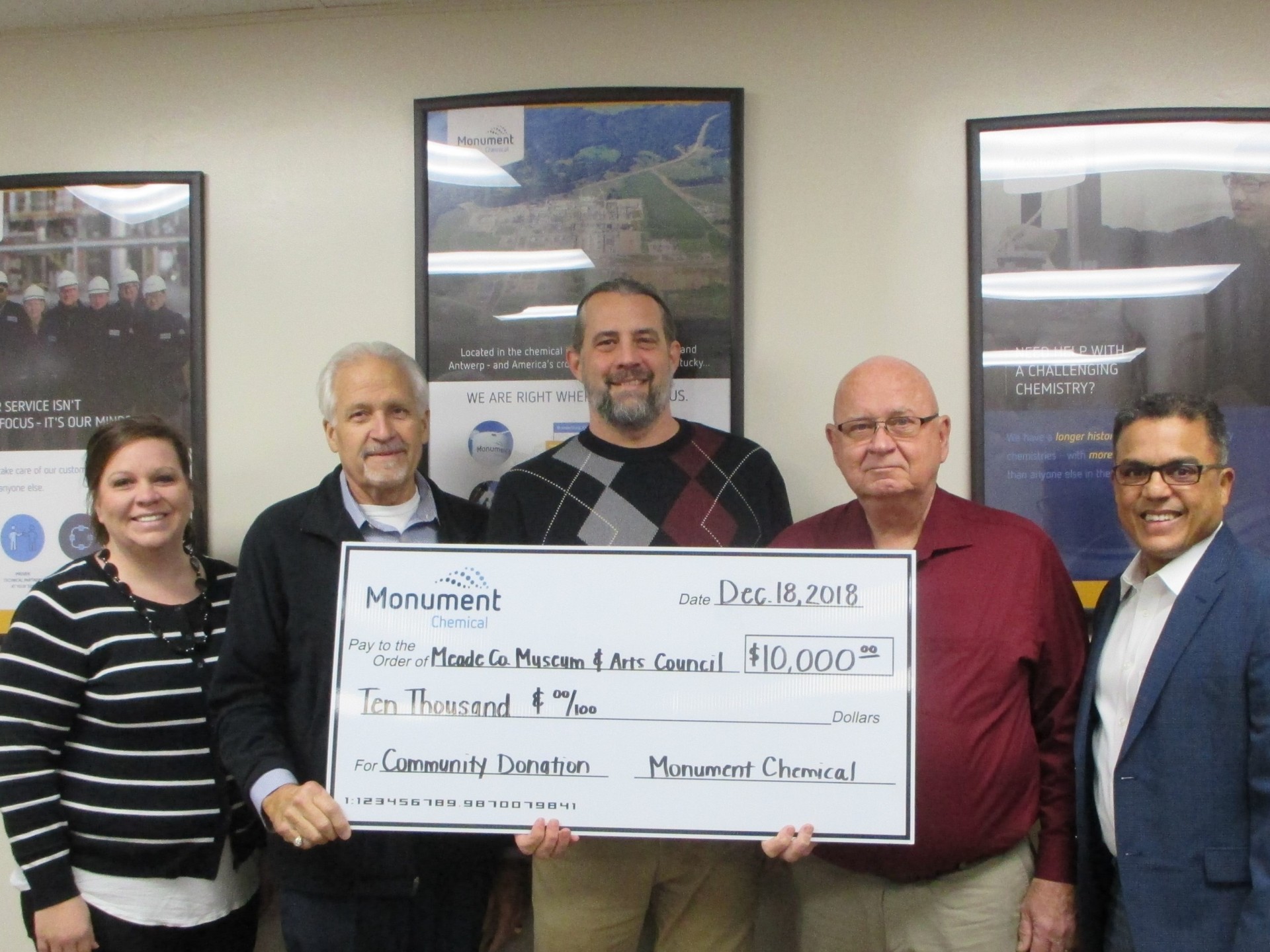 We are excited to announce the first winner of the new Monument Brandenburg Community Partnership Initiative (CPI) Grant – a $10,000 annual award for a non-profit-run program that addresses a demonstrated need within our area of focus, which for 2018 was "community land use." Our 2018 winner is the Meade County Museum & Arts Council, who submitted a proposal for a Brandenburg Riverfront Amphitheater.
"Our goal with this grant is to enhance the aesthetic qualities of the Brandenburg, Kentucky community – and to positively impact the overall quality of life for community members," said Tonya Klinglesmith, Human Resources Business Partner, Monument Brandenburg. "We received a fantastic first round of applications this year from local organizations. Even though the high quality of the applications made the decision extremely difficult, we were thrilled to see such a great response in our first year of promoting the grant."
The Monument Brandenburg Community Advisory Council (MBCAC) owns the CPI process and votes on the final winner. The MBCAC is a Monument-sponsored committee that includes members of the Monument Brandenburg team, individuals who live, work or attend school in Brandenburg and the surrounding communities, and representatives of organizations and government entities serving those communities. The MBCAC meets quarterly to engage in candid dialogue to develop a shared understanding of the interdependency of industry and community. The CPI grant offers the team an excellent opportunity to create a tangible impact within Meade County.
Plans for the Brandenburg Riverfront Amphitheater are now complete, and construction will begin in 2019.
"Our current amphitheater is open-air, which drastically limits our ability to use the space," said Joe Mangin from Meade County Museum & Arts Council. "The new amphitheater will not only have a roof, but also boasts an impressive style and capacity that will allow us to host everything from student events to large-scale concerts that draw big crowds – as well as big opportunities for the Meade County community."
Next year's Monument Brandenburg Community Partnership Initiative (CPI) Grant will seek proposals focused on youth education.
"We are particularly interested in proposals for new STEAM (Science, Technology, Engineering, Art, and Math) educational programs," said Klinglesmith. "The Monument Brandenburg team – and our company as a whole – believes strongly in inspiring the next generation of engineers, scientists, and technicians. Our new CPI focus in 2019 will allow us to build on this tradition – and to hopefully reach even more local students through an exciting 'starter' program."
"Our site has been a part of the Meade County community for over 65 years, and Monument is proud to carry on the site's long tradition of supporting local programming," added Adam Pingel, Site Leader, Monument Brandenburg. "We're excited to see the plans for the Brandenburg Riverfront Amphitheater quickly becoming a reality, and we look forward to seeing another great round of applications in 2019."