« Back
Monument Employee Teams Up with All-Star Motorsports Team to Support Hurricane Relief Efforts in Puerto Rico
October 10th, 2018
---
"The people who are crazy enough to think they can change the world are the ones who do."
— Steve Jobs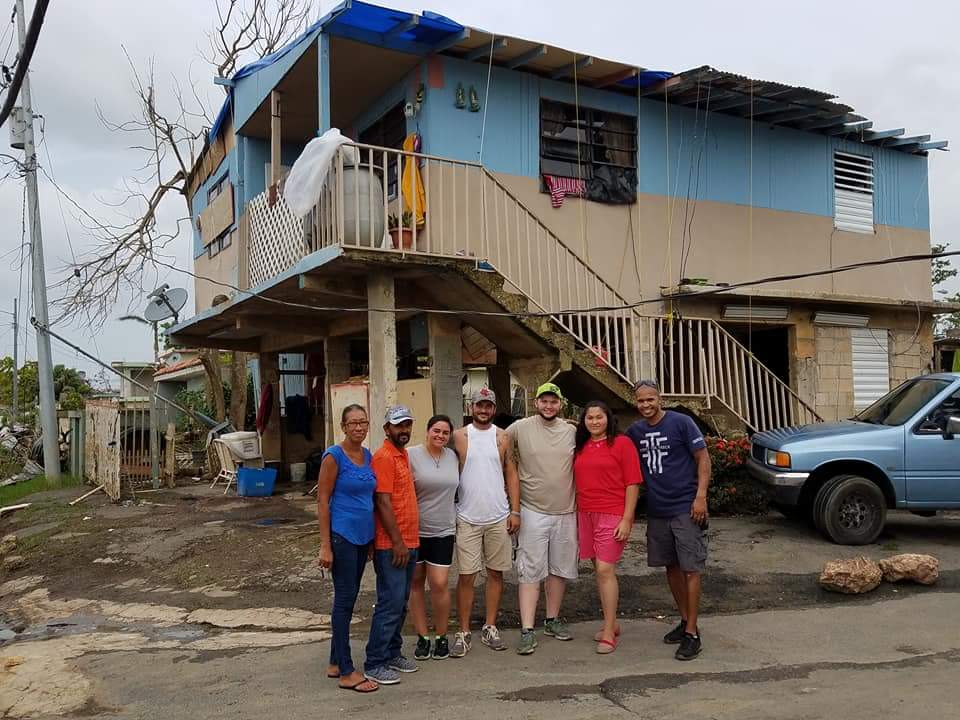 In December of this year, Monument Kentucky employee Ryan Lane will travel to Puerto Rico with a star-studded pro motorsports team to help make a difference to the many individuals and families who are still struggling in the wake of Hurricane Maria. The team includes Travis Alan Pastrana, a popular motorsports competitor and stunt performer who has won a range of championships and X Games gold medals, and Ryan Sipes, local to Meade County and another well-known motorsports competitor.
Ryan Lane, a Monument Polychem Operator, is the Founder and Director of Global Disaster Outreach (GDO), a Brandenburg non-profit organization he created after his first trip to Puerto Rico last year. A life-long resident of Brandenburg, Kentucky, Ryan had frequently sought opportunities to help those in need within his community – but when he watched the heart-breaking news coverage of the people of Puerto Rico following the storm, he was inspired to broaden his outreach efforts. He enlisted help from three of his friends, including current GDO Vice President, Milton Santos, whose family was directly affected by Hurricane Maria. They emptied their bank accounts, loaded up their tools, and headed south to Puerto Rico, intent on helping Milton's family and lending a hand in any way they could to others.
"We were able to raise an additional $15,000 from friends, family, and local businesses to help us purchase supplies to take with us," said Ryan. "For ten days, we handed out food, put tarps on roofs, and provided whatever aid we could to people who hadn't yet received official help."
The small team traveled someplace new every day, continuing to purchase supplies along the way. They documented their trip on social media – which kept the donations coming in – allowing them to keep making a difference, one house at a time.
"One woman was living with her disabled son in a house that had no roof at all," said Ryan. "They had managed to put up a small tarp where they were sleeping, but the rain was coming in every day. Our team helped create a makeshift roof out of nearby materials – so that they could at least keep themselves and their key belongings dry."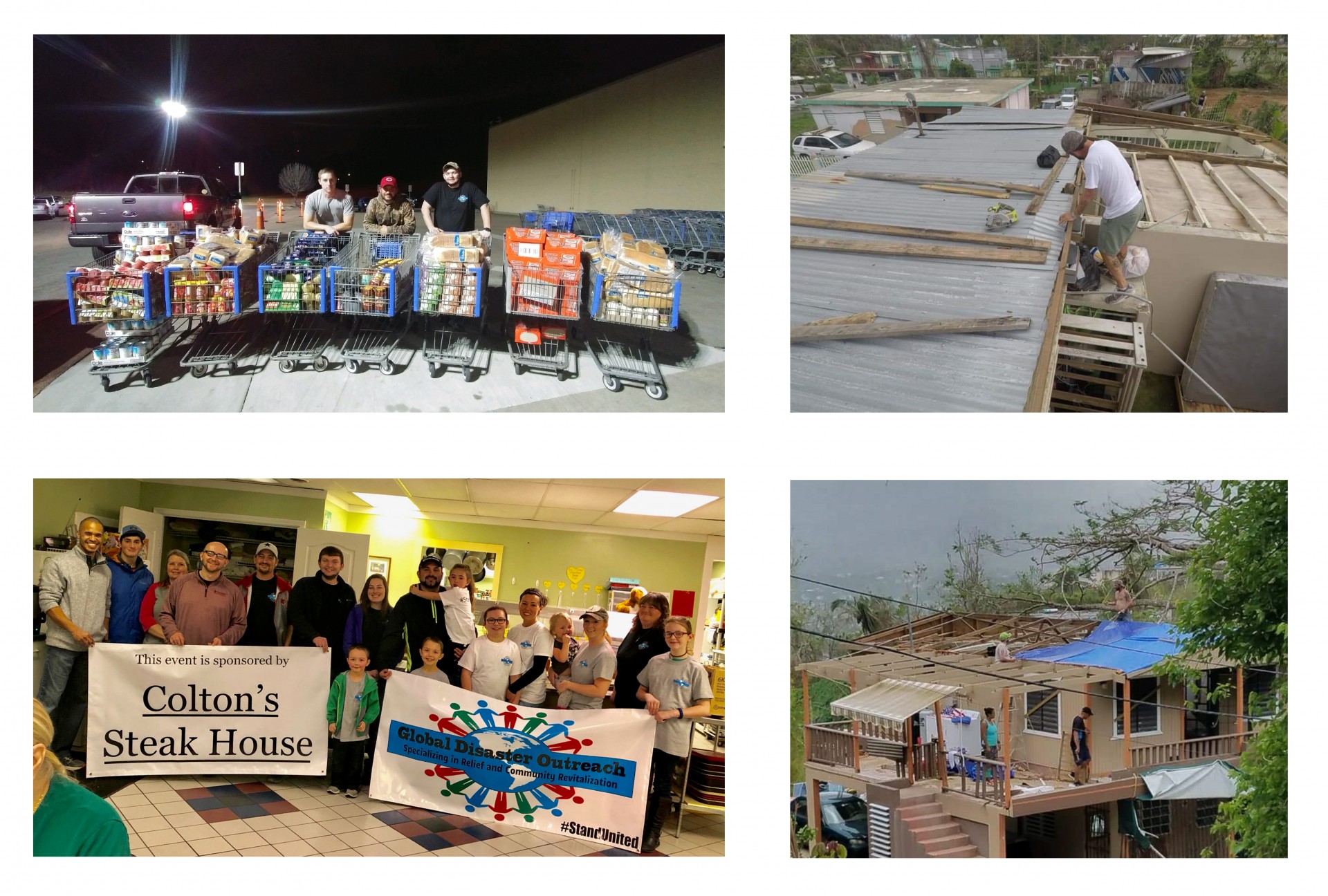 Global Disaster Outreach Partners with Team Puerto Rico
When the small crew returned, Ryan and his friends decided to form a non-profit geared toward disaster relief – and the organization also helps support local efforts in Brandenburg, including food drives and holiday dinners for those in need. In the past year, GDO members have maintained a strong interest in returning to Puerto Rico to once again provide hands-on support.
Enter Team Puerto Rico, the superstar motorsports squad that joined forces in early 2018 to help raise funds for the Puerto Rican people. When they heard about Ryan and GDO, they knew they'd found the perfect partner. Team Puerto Rico brings the star power, and GDO brings their non-profit status and experience in getting maximum impact out of funding.
Ryan plans to visit Puerto Rico this month to scout locations and opportunities, and will return to help the team make detailed plans for the larger trip – which will take place in December.
Between Team Puerto Rico, GDO members, and additional volunteers, the December trip will include about 30 people, including both Ryan and fellow Monument Polychem Operator Keith Medley. Travis Pastrana's video crew from Nitro Circus, an action sport collective that he leads, will follow the team to Puerto Rico to film their experiences – which will hopefully inspire even more donations, as well as volunteers for future outreach activities.
"We started as a few individuals who wanted to lend a hand wherever we could," said Ryan. "The incredible and collaborative effort this endeavor has become is proof that helping others is contagious –and the efforts of a small group of people can spark an outpouring of support with the power to make a big difference for many."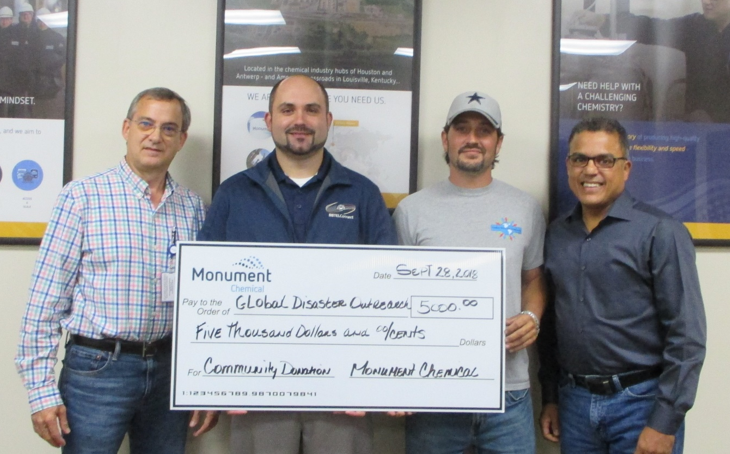 Monument recently donated $5,000 to GDO in support of the upcoming trip to Puerto Rico. Pictured here are (from left to right) Mark Graham, HR Manager, Brandenburg, Monument; Don McMahan, Director of Marketing, GDO; Ryan Lane, President and Founder, GDO & Polychem Operator, Monument; Freddy Rivera-Diaz, Operations Manager, Brandenburg, Monument.
Add a Comment
Categories
Recent Articles
There are no articles posted this month.