« Back
Monument Shares Top Five Drivers of HSSE Excellence
January 13th, 2020
---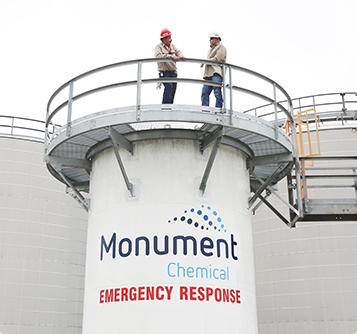 Monument Chemical is proud to be the recipient of five 2019 SOCMA Performance Improvement Awards and a 2019 Emerging Leader Award for the our Houston site leader, Maria Kraemer Gutierrez.
"While we are deeply grateful for the recognition, we're aligned with SOCMA's belief that it's all about 'improvement' and the journey vs. any one milestone or award," said Gutierrez. "We're constantly asking ourselves, What can we be doing better to ensure every team member returns home safely each day?"
Monument's Health, Safety, Security& Environment (HSSE) leaders recently sat down to chat about this question – as well as another important question: What are the key drivers of our HSSE success?
These ongoing discussions keep us focused on what we're doing right – so that we can keep enhancing our success in those areas – as well as allow us to share our top HSSE learnings with the broader industry:
Senior-Management Support
"The number-one reason we are so successful is that our senior leaders are 100-percent behind everything we do," said Stacy Johnson, HSSE Manager, Houston Area. "Every employee must believe your commitment to health, safety, security, and the environment is real – they have to know you mean it. And that starts at the top."

Cooperation Across Locations
"Our HSE organization works together and shares ideas as a team, even though we are often working many miles apart at five different locations," said Johnson. Monument operates three facilities in the Houston area, one in Brandenburg, Kentucky, and one in Antwerp, Belgium.

The Right Team – The Right Technology
Jody Caines, Compliance Manager, notes the recent creation of an HSE position that functions as a "third-party" internal compliance auditor. Monument also recently implemented software that integrates policy requirements across all company sites as critical drivers of recent HSSE performance. And in 2020, Monument will be rolling out Global Compliance Process software to track all deliverables and to better leverage learnings and activities across plants.

"Everything will be fully integrated once the system is completed, which means the technology will be able to serve as a 'check and balance' across the entire company," Caines said.

Early Stakeholder Involvement
"If new products or raw materials are coming to the site, we make sure our internal stakeholders across functions are aware and on-board as early as possible," said Stephen Cundiff, Environmental Manager Brandenburg. "It's critically important to get everyone involved as soon as you can, so we can capture feedback and look at new challenges from all angles."

Continuous Improvement
An important driver of continuous improvement for Monument in 2019 was a comprehensive audit of all five Monument sites undertaken following several high-profile industry incidents. Key focus areas included Emergency Response readiness, housekeeping in relation to emergency response, operating procedures, training records, security, and compliance.

The company took quick actions to prioritize and address the audit's findings, according to Narayan Dave, Global HSSE Leader.

"Proactivity and prevention will always be our first line of defense," said Dave. "However, on the other side, we also need to have the right planning, training, and processes – which can mean the difference between a crisis that spins out of control and one that is resolved with minimal impact to the site, our employees, the community, and the environment."
About Our 2019 SOCMA Recognition
Monument's Houston, Texas site received the Silver Award for Employee Training and the Bronze Award for Stakeholder Communications. The Brandenburg, Kentucky site was honored with the Silver Award for EHS&S in Planning & Operations and the Bronze Award for Product Stewardship. And the Baytown, Texas site received the Silver Award for EHS&S in Planning and Operations.
In addition, as mentioned above, the Emerging Leader Award recognized Gutierrez as a "'shining star' who makes a significant contribution or impact with their organization from a sales, marketing, research, management, or plant operations perspective."
PICTURE: Monument team members participate in regular HSE training to keep skills fresh.
Categories
Recent Articles
There are no articles posted this month.